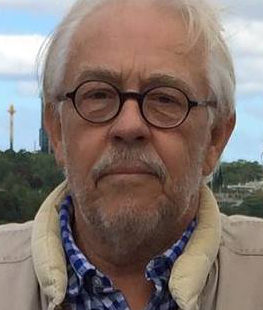 Budapest: The Jewel on the Danube
Steve Borbas and Anna Powless, UNM
November 10, 2019 (Sun) 3:00 – 5:00 p.m.
Albuquerque Museum
2000 Mountain Rd NW, Albuquerque, NM 87104
2100 years ago, the Celts settled in Buda, Budapest's western half, on the banks of the Danube River. The city was only united officially with its counterpart, Pest, some 150 years ago, when the beautiful Chain Bridge finally connected the two. Some legends even suggest that the sculptor of the lions protecting the bridge killed himself after being told that the lions had no tongues – oh well! Six later bridges spanning the wide Danube made it a great metropolis. While Buda has the hills, castles, palaces, and wealth, Paris was the model for Pest's distinctive urban character, with its ring roads, non-grid street layout, and large parks, not to mention the stunning Parliament building, St. Stephen Basilica, and many entertainment venues. Also essential to Budapest culture are its spas (some 16 of them, such as the Gellert and the Szecsenyi Furdo) and cafes (such as the historic Gerbeaud Café, where elderly wealthy ladies would look out for a fork turned upside down as a signal that a young gentleman was available). Across the Danube, up at Buda's Castle Hill Labyrinth, Count Dracula was held and tortured for 14 years, while a nearby cemetery houses the torn down statues of previous leaders of ill repute. Anna and Steve have many fascinating facts and stories to tell about Hungarian music, poetry, food, art, ruin pubs, the uniqueness of the Hungarian language, architecture and sparkling nightlife, even a bit of history – all the reasons why the rest of Europe calls Budapest THE WONDERFUL.
Steve (Istvan) Borbas escaped as a kid, with family at the 1956 Hungarian Revolution. After studies in NYC and London, then work and travels around the world, he settled in Albuquerque as the University of New Mexico campus architect/planner and professor over 30 years ago. Now he is a sketcher, watercolor painter and sculptor. Anna Powless was born in Budapest, Hungary and came to the US when she was 18. She earned her degrees at UCLA and at UNM, taught school for 13 years and worked as a corporate trainer for 20 years. All her family still lives in Hungary and she returns frequently to visit.
Lecture: $15/Albuquerque International Association (AIA) Members, $20/Non-Members; High School & College Students with ID – Free. Please address checks to AIA and mail to AIA, PO Box 92995, Albuquerque, NM 87199 by November 7, 2019. You can also pay on-line with credit card or at the door (cash and check only).
*Early Bird 20% Discount: $12/AIA Members, $16/Non-Members. Payment deadline is November 3, 2019.
Supported in part by Urban Enhancement Trust Fund, Haverland Carter Lifestyle Group
and Sandia Laboratory Federal Credit Union