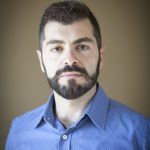 Dr. Mostafa Minawi, Cornell University
October 22, 2017 (Sun) 3:00 – 5:00 p.m.
UNM Continuing Education Conference Center
**Online registration has closed. Tickets are still available and can be purchased at the door (cash and check only).
Since the summer of 2015, Turkey has gone from being an economically stable multi-party parliamentary democracy with a hopeful future and growing economy, to a country in a perpetual state of emergency. This talk will attempt to put things in context on the local, regional and international levels with the aim of explaining some of the complexities of the situation and some policies that might seem counterintuitive to a casual observer of recent developments in Turkey.