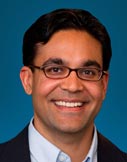 Modi's India: Change You Can Believe In?
Dr. Milan Vaishnav, Carnegie Endowment for International Peace
January 30, 2015 (Fri) 3:00 – 5:00 p.m.
UNM Continuing Education Conference Center
The 2014 Indian general election in May, the largest democratic exercise in history, produced a landslide victory for the opposition Bharatiya Janata Party (BJP) and its controversial leader, Narendra Modi. The verdict has been hailed as "historic," "unprecedented," and a "game-changer" for India's future. In this lecture, Dr. Milan Vaishnav will reflect on the election results and Modi's performance in his first seven months in office to evaluate how India's economy, society, politics, and foreign policy have changed, and how they have not, in the new "Modi era." These developments, in turn, have real-world implications for the United States and our relations with the Asia-Pacific region.
Dr. Milan Vaishnav is an Associate in the South Asia Program at the Carnegie Endowment for International Peace in Washington, D.C, where he coordinates Carnegie's "India Decides 2014" initiative. He has previously worked at the Center for Strategic and International Studies, the Council on Foreign Relations, and the Center for Global Development. He has also taught at Columbia, Georgetown, and George Washington Universities. Dr. Vaishnav's primary research focus is the political economy of India and he is currently writing a book on the interplay between criminality and democracy in India. Dr. Vaishnav holds a Ph.D. in Political Science from Columbia University.
Supported by New Mexico Humanities Council and Sandia National Labs