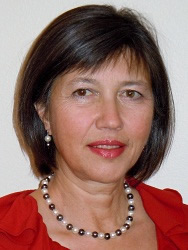 Moscow: Building a New Third Rome?
Dr. Marina Oborotova, CFIS-AIA
April 3, 2018 (Tue) 3:00 – 4:30 p.m.
Albuquerque Journal Auditorium
7777 Jefferson St. NE, Albuquerque, NM 87109
Holy Moscow, New Rome, Center of Russia – these names reflect some of the different facets of the City's ever changing identity throughout centuries. Since its founding nearly 900 years ago, Moskva grew from a small settlement on the banks of the river Moscow to the capital of centralized Russia and later to the site of the Third International.  With the collapse of the Soviet Union, Moscow, under the leadership of its former mayor, Yurii Luzhkov, has entered a new phase as dynamic, capitalist megalopolis. Over the past 16 years, the city's face has been transformed by massive restoration, renovation and a vast program of new construction.  Moscow has seen the emergence of a new, energetic middle class and has lived through both boom and bust.  Recently her uneven, breakneck growth and glittering prosperity has earned Moscow the dubious distinction as the world's most expensive city, choking in traffic jams spawned by economic success. But for all the changes, much of old Moscow remains and she can still take pride in her splendid traditional architecture, fascinating museums like the Tretiakov Gallery, and cultural wonders like the Bolshoi Theater ballet. In this talk, Dr. Oborotova will highlight the city's changes and its history.
Dr. Marina Oborotova is the Albuquerque International Association founder and president. She was born and schooled in Russia, worked and lived in Europe, Latin America and for the last 25 years – in the United States. Professionally, Dr. Oborotova is the author of multiple articles and books on foreign affairs. She worked for Russia's leading think tank, USIC, TC International and taught at UNM's History and Political Science Departments and the Anderson School of Management.
Lecture: $15/Albuquerque International Association Members, $20/Non-Members; Students (under 30) with ID – Free. Please address checks to AIA and mail to AIA, PO Box 92995, Albuquerque, NM 87199 by March 30. You can also pay on-line with credit card or at the door (cash and check only).
Seating is limited to 80 so we encourage you to purchase tickets in advance.
Supported by the Albuquerque Journal