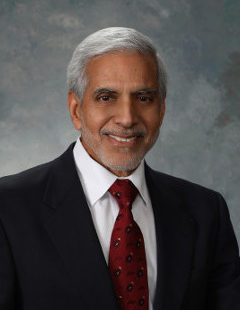 Muslims in India
Abbas Akhil, NM House of Representatives
July 19, 2019 (Fri), 3:00-5:00 p.m.
Albuquerque Journal Auditorium
7777 Jefferson NE
The roots of Islam in India can be traced to the 6th and 7th centuries along the Western coast to Arab traders and in the North to Turkic invaders and Persian conquerors who came later in the 12th and 14th centuries.  The influence of Islam through these two separate routes took different forms.  Abbas Akhil will focus on the spread of Islam through these two origins to eventually become the largest minority religion of 200 million in a dominantly Hindu country.  He will explore the cultural and linguistic influences of Muslim culture, the complex political ramifications of the Muslim identity, the partition of India along religious lines in 1948 and the more recent rise of Hindu nationalism that lead to the overwhelming victory of Prime Minister Narendra Modi in national elections last month.
Abbas Akhil was born in Hyderabad in South Central India in a pluralistic society where Muslim and Hindu communities existed side by side for ten generations.  He moved to Aligarh Muslim University in North Central India for his undergraduate studies in engineering, where he encountered a sharply different cultural/religious paradigm.  Abbas and his wife Habiba moved to the US and made Albuquerque their home in the early 1970s, raised a family and made successful careers in engineering and real estate.  Abbas now represents the Southeast part of Albuquerque as a State Representative and is the first elected Muslim and Asian American in the State Legislature.
Lecture: $15/Albuquerque International Association (AIA) Members, $20/Non-Members; Students (under 30) with ID – Free. Please address checks to AIA and mail to AIA, PO Box 92995, Albuquerque, NM 87199 by July 17, 2019. You can also pay on-line with credit card or at the door (cash or check only).
*Early Bird 20% Discount: $12/AIA Members, $16/Non-Members. Payment deadline is July 12, 2019.
Sponsored in part by Aroop Mangalik and the City of Albuquerque