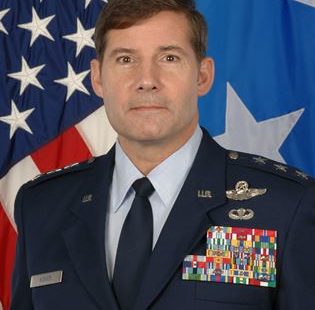 NATO in the 21st Century
Lt. General Frank Kisner
March 1, 2019 (Fri) 3:00 – 5:00 p.m.
Albuquerque Journal Auditorium
7777 Jefferson Blvd. NE
The NATO Alliance's first 40 years were focused on a defense of Western Europe from USSR attack, but following the events of the last decade of the 20th century there was much speculation on a change for NATO strategic guidance, and yet nearly two decades after the Fall of the Wall, and after NATO opened its membership to nations from the former Soviet Union, why does Russia maintain its top-of-the-list position as the principal antagonist? Frank Kisner will provide an overview on NATO, on what the Alliance is doing today, and share perspectives on how member nations have been influenced by the past, affected by the present, and what that might mean for future relations with Russia.
Frank Kisner is a retired Air Force general officer whose final tour of duty was at NATO's Supreme Headquarters Allied Powers Europe in Mons, Belgium where he commanded the NATO Special Operations Headquarters. Prior to that assignment, he was Commander, Special Operations Command-Europe, and stationed at Headquarters, United States European Command in Stuttgart, Germany.
Lecture: $15/Albuquerque International Association (AIA) Members, $25/Non-Members; Students (under 30) with ID – Free. Please address checks to AIA and mail to AIA, PO Box 92995, Albuquerque, NM 87199 by February 27, 2019. You can also pay on-line with credit card or at the door (cash or check only).
*Early Bird 20% Discount: $12/AIA Members, $20/Non-Members. Payment deadline is February 22, 2019.
Supported by Pete & Pat Robinson, Urban Enhancement Trust Fund and Sandia National Labs