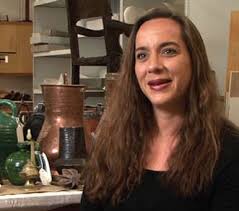 The History of Chocolate: Food of Gods Transformed into Food of Lovers?
Nicolasa Chavez, Museum of International Folk Art
February 14, 2016

In winter months, restaurants around the country serve traditional Mexican chocolate.  Popularly known as a sweet, an antioxidant, or an aphrodisiac, chocolate holds sway as one of the most popular food items in history. Dating centuries before European contact, chocolate was used in Central America spiritually, medicinally, and for its nutritional value. Mayan warriors took bars of chocolate, said to sustain one for an entire day, on the road. It was then brought to Europe by the Spanish where it was incorporated into alchemical experiments and elaborate recipes by monks and chefs of royal courts. Traditionally served as a thick frothy beverage it was eventually produced as a candy. This lecture traces the history and journey of chocolate from the Americas, through the Spanish Colonial Southwest, transported to Europe and now enjoyed around the globe.
Nicolasa Chávez, is Curator of Latino/Hispano/Spanish Colonial Collections at the Museum of International Folk Art (MOIFA). She received her Master´s Degree in History with a concentration in Iberian Studies at the University of New Mexico. She is the curator of the recent exhibition Flamenco: From Spain to New Mexico at the Museum of International Folk Art and is author of the accompanying publication The Spirit of Flamenco: From Spain to New Mexico. Prior to joining MOFIA she curated El Mantón de Manila /The Spanish Silk Shawl at the Museum of Spanish Colonial Art and served as Curator and Site Manager of Casa San Ysidro, an historic property owned by the Albuquerque Museum. At MOFIA she curated New World Cuisine: The Histories of Chocolate, Mate y Más (her personal favorite due to a love of chocolate, wine, mate and chile). In conjunction with the exhibition she attended chocolate and wine tasting events, presenting the rich history of these items used spiritually, nutritionally, and for pleasure.  Most recently she co-curated The Red that Colored the World and is a contributor to the publication.
Supported by Sandia National Labs, Haverland-Carter Lifestyle Group & the Albuquerque Journal